Hi hi, friends,
Yesterday I was driving home from a meeting (more on that below), coming along a bend by the woods near my house. The sky was blue. The fall leaves were sifting down. A squirrel with an acorn was sitting in the middle of the road before it heard my car and scampered off. Everything seemed so normal, and I thought, in that dreamy way you can when you are all by yourself, "Someone is going to wake me up soon and I'm going to realize that this was all a bad dream." "This" being the election and everything after. I've talked with a couple friends about how waking up last Wednesday felt like waking up the day after the death of someone close to you. For me, it felt like it did the day after my dad died. I've heard other people say similar things. That moment coming down the road where everything seemed so normal reminded me of the first weeks after he died, too, when I'd forget about what had happened for a second and then remember: The world has changed, terribly; and the world is also still somehow going on; there is no going back.
I find myself wanting to be charming here. Persuasive, if this sounds like hyperbole. Or to apologize if this isn't what you wanted from this letter, which is ostensibly about creativity and writing. I don't think there's time to worry about any of that. Last week, on election night, I was approaching voters with a survey for Democracy North Carolina, and I kept hearing how my voice was two octaves higher than usual—"Sir, do you have a moment… "—while bearing down with my clipboard on some poor figure scurrying toward his car in the dark. When I made my first call to one of my senators this week, to protest the Bannon appointment, the aide asked me to spell my last name (Frye) and when I got to "F as in—" the only word I could think of that started with "F" was "Fuck." I knew I couldn't say that and, so after a pause, during which I was frantically rolodexing common household objects, I came out with "F… as in frittata." So there it is—I'm not ready. And I report this in case you don't feel ready either. I have to think that we're going to get better at this, and that, whether we do or not, we have to keep going anyway.
For myself, I can say I feel like someone who has been playing at chess—with good intentions but, really, truthfully, without putting in much effort—and found my opponent has been putting in the effort and is now placed on the board several strategic steps ahead. It's time to catch up. Well, it's past time to catch up, but here we are.
The Sewing Circles Model
I've circulated this on Facebook and Twitter but I'm including it here, too, in case it's a model that makes sense for you to follow, too. It's something I've been organizing in Asheville with a friend, Molly. This is our planning document (you'll have to click Display Images to read it):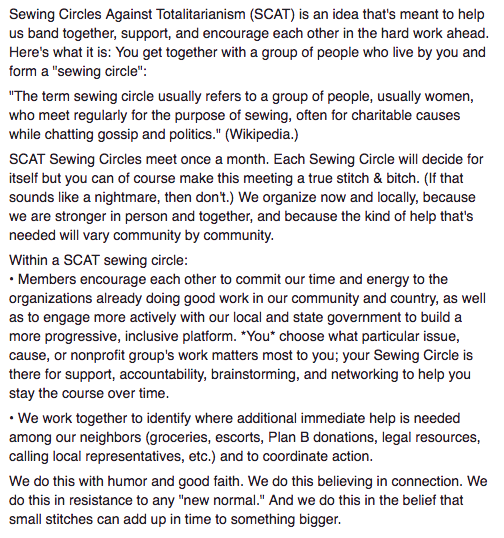 Our first full sewing circle meeting will be in a few days. Yesterday Molly and I met to talk through the meeting structure a little more and how we might dry-run a local service project to see how that works.
On a strategic level, I think it's important to start now getting local organized social networks like this in place. More than this, just on a human level, I realized last week that I felt better—and strengthened—when I was talking to the other puffy-eyed, sleepless-looking, vibrating-with-foreboding women that I was running into. One woman said to me, "I can't breathe." It was the second time we'd ever spoken to each other. I keep thinking of Masha Gessen's essay "Autocracy: Rules For Survival" and its line, "This will lead people to call you unreasonable and hysterical, and to accuse you of overreacting. It's no fun to be the only hysterical person in the room. Prepare yourself." One nice thing about having a sewing circle is that, at least one night a month, you're guaranteed of not being the only hysterical person in the room.
Other Ways To Go
God knows, a sewing circle is not everyone's bag. Two other resources I'd point you to:
• The writer (and my friend!) Maud Newton's Tumblr where each day she's outlining a concrete action she's taking to oppose Trump with phone numbers and contact information you can use too.
• The actionnow Tinyletter, which is a "daily email of suggested actions to help others and reduce the impact of racism, sexism, class and income inequality, disability discrimination, and more."
Next letter in a couple weeks. I have something Tolstoy-related planned but let's see where the world goes.
Until then,
with much love,
CAAF
p.s. If you haven't subscribed to this newsletter and would like to, go here.
—
Carrie Frye
Black Cardigan Edit