The Second Annual Hocus Pocus Beast Retreat
April 25–28, 2019
Outside Asheville, NC
Join other women writers from across the country for a witchy and wonderful spring retreat designed to help you make good progress on your project. It's a small group, and we'll squirrel up for four days of writing and workshops, wonderful meals, mountain walks, yoga, and general creative-cauldron-filling.
"I feel more courageous, more enthused" is how one of the writers who came to last year's retreat put it. (You'll find more testimonials to the right.)
The retreat is being held in a beautiful spot near Asheville, where we'll have the entire lodge to ourselves (as well as spectacular grounds outside in full mountain springtime mode). You and I will be talking beforehand so that I'm familiar with your particular goals for your project and can support and guide you as you move towards them. The weekend will be relaxed and cozy—but with lots of marvelousness stitched through it.
The retreat's limited to twelve participants. Registration deadline is March 26th.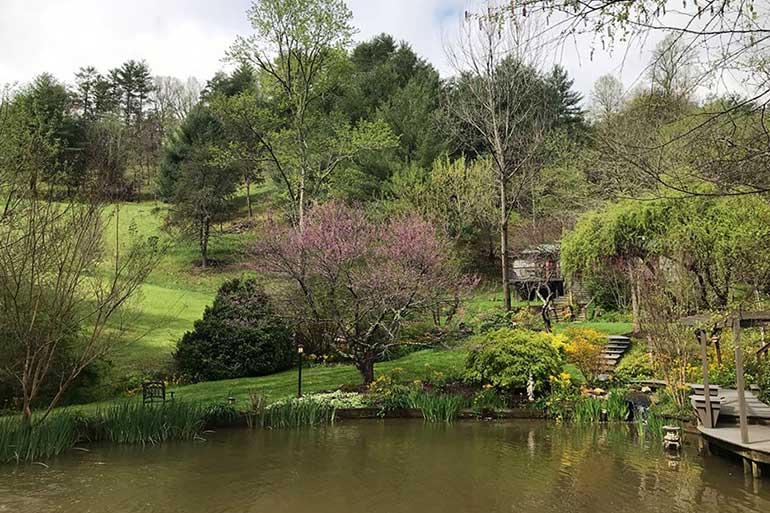 Retreat Includes
One-on-one editorial mentoring before, during and after the retreat. If you've considered working with me, this is a fantastic way to get guidance on your project, whether it's at glimmering new-speck stage or further along.
Immersive workshops where we'll approach craft and writing in unexpected fun ways.
Daily gentle, all-levels yoga.
Organic meals… and more.
Note: If you're a trans woman or a non-binary person, please know how welcome you are here.
The Retreat Setting
The Beast Retreat is being hosted at Bend of Ivy Lodge, a half-hour's drive north of Asheville, NC. It's a gorgeous spot, set on sixty acres or so in the Blue Ridge Mountains. It edges up to a river called the Ivy, and there are gardens, goats, and ponds, as well as lots of nice trails through the woods.
About Carrie Frye and Black Cardigan Edit
My name's Carrie Frye, and I run Black Cardigan Edit, where I help writers develop their books as well as get them scrubbed up before they go out in the world. I live in Asheville. More about my background here.
Want to Learn More?
If you'd like to apply, fill out your info below and I'll be in touch to set up a Hocus Pocus Retreat Chat. (No obligation! The call's just to make sure the retreat's a good match for you.) Or you can email me at blackcardiganedit@gmail.com.