Services
---
Black Cardigan Edit offers a range of editorial services for both completed manuscripts as well as works-in-progress. Scroll down to see which one is the best fit for you!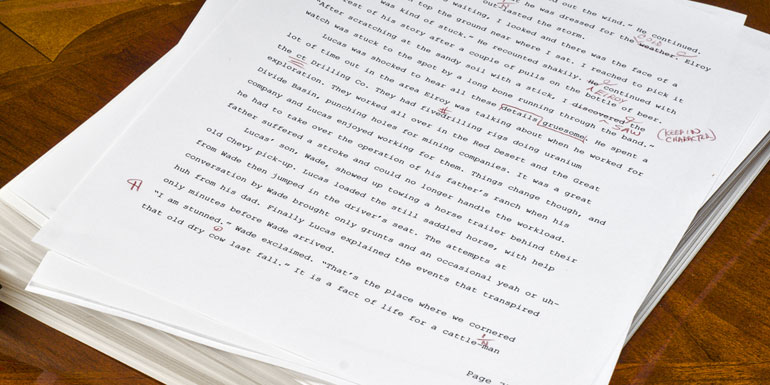 ---
The Mid-Project Check-In
---
Guidance for when you're only part of the way through.
You've started writing your book, gotten a fair amount done, and now, before you go any further, you'd love to check in with someone about what you have. Maybe you've lost momentum—or you've begun to feel overwhelmed by the project's sprawl. We'll talk by phone so I understand your goals and where you'd most appreciate insight. After I read your pages, I'll send you a two- to three-page editorial memo that'll serve you like a good map, helping you to see where you are and what are the next best steps you can take to move forward.
This is an excellent service to use in tandem with Packet Ship (see below).
Fee starts at $3,500 and is based on your word count. Contact me for a quote!
---
The Full Scrub
---
Your entire manuscript scrubbed up and polished, line by line!
The Full Scrub is a rigorous edit of your manuscript to prepare it for submission or publication. I call this the Full Scrub because it's the editing equivalent of sending your book off to get it scrubbed, trimmed, and polished, from the inside out and from top to bottom. You know, in the Wizard of Oz, how the Cowardly Lion looks after he visits the beauty salon in the Emerald City? With his coat all untangled, his nails clipped, and a neat little bow tied in his mane? That's your book after the Full Scrub.
Depending on the complexity of your manuscript, I may suggest we approach the edit in two stages, with a first round that focuses on structural elements (similar to the process described for the Revision Blueprint) and a second edit that's dedicated to a close line-by-line edit of the work. Sometimes, however, that's not necessary. My interest is to understand what you want for your book and provide the kind of dedicated and knowledgeable editing that helps it get there.
Process includes:
An inventorying step that helps me understand your goals and intentions for your book.
Phone consultation to set goals for our work together and talk through any concerns you have about the draft.
First batch check-in, with a phone call as needed. (I like to do a check-in after the first few chapters to make sure we're still jogging along in good agreement.)
At the close, you'll have a manuscript that's been fully edited, line by line, and is ready to go out into the world!
Third phone chat, as needed, to go over any remaining questions and talk through next steps.
Contact me to set up an appointment to talk about your project.
---
Beast Incubator
---
Editorial development, problem-solving, and TLC for your work-in-progress.
I created this service for writers who would like to consult with me to work through a specific editorial dilemma (as opposed to hiring me to scrub up their pages). For example, if you have a rough book idea that you'd like help developing into a structure that's ready for proposal. Or you've written a few chapters of your book and crave big-picture feedback. Or maybe you've simply gotten stuck at some early point of your book and would like guidance in mapping your way forward. One client calls this "book therapy."
The process includes an audit step, during which you'll share with me research, existing chapters, and other background materials, and three phone sessions. Just as an incubator provides a warm enclosed space for new hatchlings, this is the place to bring your project for focused, intensive problem-solving help.
Contact me to set up an appointment to talk about your project.
---
Book Beast
---
A program to help you make major tracks on your book!
Book Beast is a six-month program for writers who are longing to go after a big, inspiring beast of a creative project, but crave close editorial guidance and structure as they develop it. If you've been nurturing a book idea or you've started on a book but are making only erratic progress (day job, other responsibilities, pressing weight of ennui and ambition), this may be a great program for you. I'd also recommend it for anyone who's feeling stuck or stalled out creatively and wants to work their way out of it.
The Book Beast program includes:
A planning session.
Bimonthly Book Beast readings and guides on creativity and craft.
Editorial guidance on two packets of writing with edit notes.
Monthly phone conference.
Weekly email check-ins.
And, of course, one encouraging, tenacious, problem-solving, and dedicated editor who can help guide you to writing your very best book. The next run of Book Beast starts in June 2019 and is limited to five spaces. If you'd like to learn more about it, go here.
---
Packet Ship
---
A one-on-one program to help you navigate your way through your book.
Whether you're at the start of your book or midway through, Packet Ship is a one-on-one program that can fundamentally change the experience of working on your book by bringing you the guidance—and the thrumming, encouraging boosts—of an editor-mentor.
At the outset, we'll have a planning and inventorying session to set project goals and set a schedule for when you'll be sending me packets of your pages in progress. After you send your packet, we'll have a phone conference to talk through the pages, problem-solve any issues you're having with the draft, and set a plan for your next packet. (You'll also receive a thorough edit note.) The goal is to keep you, the writer, sailing clear of stormy seas, generating new pages, and speeding your way toward completion.
Each packet can be up to 17,000 words (about 45 pages). You can sign up for either two to four packets depending on the size of your project and how far you are in it. (So if you're at the beginning of a book that you estimate will be 65,000 words, you'd sign up for four packets. Whereas if your project is already underway with a hundred pages left to go, we'd do a Mid-Project Check-in together of your existing pages, plus, two packets.)
This service is a good match for writers who want to work more independently of the calendar than the Book Beast program, but who still desire the feedback and the ongoing support of an editor intimately familiar with their project. Want to talk more about it? Get in touch and we'll set something up!
---
Gift Certificates
---
Give Black Cardigan editorial guidance in a card.
Want to give the writer in your life the support of an editor? Arrange for a Black Cardigan gift certificate! I offer an email version or a paper one that can be sent through the mail. (They're both spiffy looking!) Contact me to arrange it!